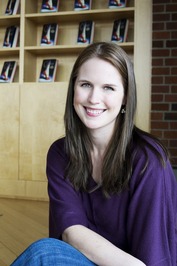 Marissa Meyer is an American author, best known for The Lunar Chronicles which was published by Feiwel & Friends/Macmillan. Her upcoming novel, Renegades, will be published on November 7, 2017.
Personal Life
Marissa Meyer was born in Tacoma, Washington, and still resides there today.
When she was 14, she started writing Sailor Moon fanfiction under the name Alicia Blade. She attended Pacific Lutheran University where she earned a Bachelor's Degree in Creative Writing and Children's Literature. She went on to receive a Master's Degree from Pace University in publishing. Meyer worked as an editor as well as a freelance typesetter and proofreader in Seattle.
She married her husband in 2011, and they adopted twin daughters in 2015.
Her debut novel, Cinder, was released in 2012, and went on to become a New York Times bestseller. She is represented by Jill Grinberg of Jill Grinberg Literary Management.[1]
Bibliography
Novels
The Lunar Chronicles
Cinder (2012)
Scarlet (2013)
Cress (2014)
Fairest: Levana's Story (2015)
Winter (2015)
Star's Above: A Lunar Chronicles Collection (2016)
Stand-Alones
Renegades Trilogy
Renegades (2017)
Archenemies (2018)
Supernova (2019)
Graphic Novels
The Lunar Chronicles
Wires and Nerve (2017)
Wires and Nerve: Gone Rogue (2018)
Novellas & Short Stories
Gold in the Roots of the Grass (2016)
The Sea Witch (2017)
Other
The Lunar Chronicles Coloring Book (2016)
Trivia
Cinder, Scarlet, Cress, Fairest, and Heartless were all NaNoWriMo novels.[2]
Her all-time favorite book is Pride and Prejudice by Jane Austen.[2]
She has two cats - Calexandria Josephine and Blackland Rockwell III.[2]
References