Jurassic World: Dominion Dominates Fandom Wikis - The Loop
Play Sound
"
One does not have to be competent to be an enemy.
"
Honey Harper[1][2] was an Anarchist that controlled bees, wasps and other insects.
Recent Events
Pre-Series
Honey Harper grew up on a farm. When she was twelve years old, she stepped on a hornet's nest. The stings sent her into anaphylactic shock and she passed out. When she awoke hours later, she was swollen up like a balloon. She eventually survived and found the hives queen crushed under her shoe. After that, the whole hive was under her control.[3]
WIP
WIP
Honey is fatally shot by Nova as she was about to kill Adrian/Sketch.[4]
Characteristics
Appearance
Honey had blonde curls and a pale & curvy physique. Instead of lipstick, she used honey[1] as she tended to doll herself up frequently.
Personality
Honey was rather vain as she loved getting dressed up and showing off though she is extremely loyal towards the Anarchists. She was willing to fight for them with anything and everything as her beliefs were very important to her. When Frostbite and her team raid the Anarchists, Gargoyle started killing every single one of her bees, which caused Honey to try and take them back, but she was forced to not rebel. She cares deeply about her "babies." 
Description via Marissa Meyer[5]
"Honey is vain and a bit of a drama queen—back when the Anarchists ruled the streets of Gatlon she loved to get dressed up and go out on the town. She is in control of hundreds of bees—and hornets, and wasps… basically anything with a stinger. Honey is fiercely protective of her so-called "babies," and they will follow any command she gives. She never wears lipstick—she prefers to coat her lips in honey."
Powers & Abilities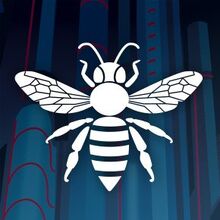 Anthophilia: Honey can control bees, wasps and hornets among other similar insects. She is very protective of them and even calls them her "babies."[1]
Equipment
Weapons
WIP
Other Equipment
WIP
Relationships
WIP
Trivia
Her name is a pun on honey, which bees are known to make.
References